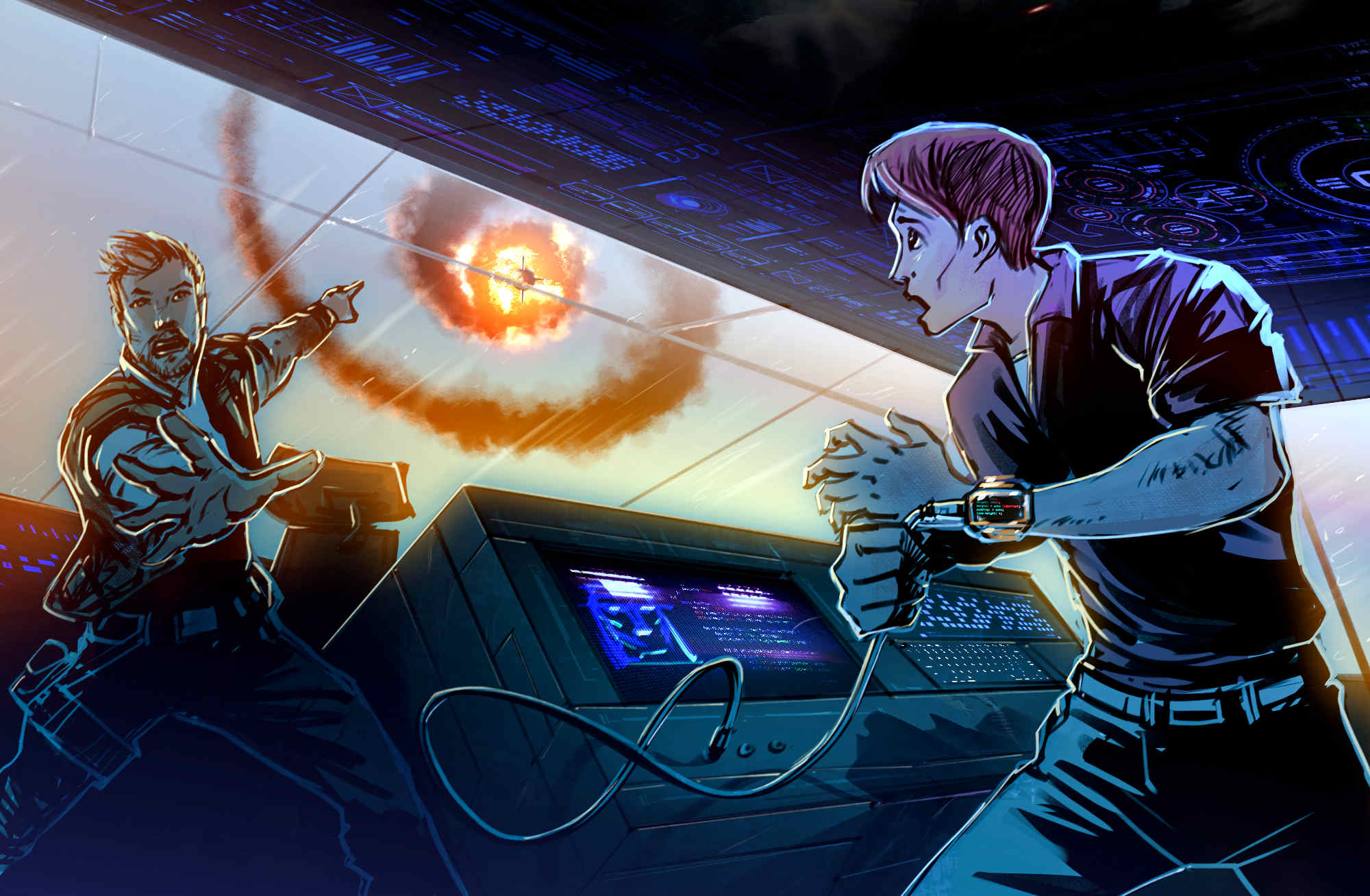 John Storm and Dan Hawk at the helm of the Elizabeth Swann, under missile attack from CIA

George Franks is a great friend of John Storm, a Trustee appointed by his lifelong chum, Professor Douglas Storm, to look after his nephew. Knowing that there would be tough times ahead for the ocean adventurer, who on occasion was known to ruffle few feathers of those in authority. Especially with his lobbying antics.
It comes as no great surprise to George, held to be one of the world's finest legal brains, and a cunning and tenacious advocate, that John would end up in an international court, or at least be the subject of multiple claims from different jurisdictions.
Surely enough, Jamaica, Spain, Panama and the United Kingdom, make claims against the discovery of one of Captain Morgan's thirty-six ships, in a location that John refuses to disclose, citing his Article 10 and 11 human right, as per the Universal Declaration, the right to a Fair Hearing, and to be Presumed Innocent. But this is of course, civil litigation.
George was at first convinced that John had no claim to the treasure trove, but soon realised that the Claimant's were unable to substantiate their Claims. George is impressed when Peru and Mexico waive all rights to the presumed treasure ship, happy that John would do the right thing. And to cap it all, they are willing to be his character witnesses.
In this fictional episode of the ocean and climate awareness series, 'George' is very pleased that John agreed to help out the British Royal Navy. And secretly very proud of adventurer, as he imagines how Professor Storm would have felt. Had he been around to see his nephew, now a Royal Navy Commander, in action.
George believes that he is related to King Arthur, although just a legend. He has a Round Table in his office and a collection of medieval suits of armour. George named the weapons system aboard the Elizabeth Swann, 'Merlin.' Also naming the laser cannon: 'Excalibur.' and the anti-pirate tazer: 'Pendragon.' George considers John to be a modern Knight, because of his strict code of honour, even when battling evil.
George is somewhat taken aback to learn that John, Dan, and Patricia have (apparently) cured Pope Peter Benedict of stage 4 cancer.
The next legal challenge would come in the form of, Musket Meloni's attempts to steal the cure for cancer and cloning technology, where George favours multiple injunctions, but John is forced to be proactive, in light of Meloni's efforts to hack Hal and Captain Nemo.
...
SECTASAUR CAST
| | | |
| --- | --- | --- |
| PROTAGONISTS | - | DESCRIPTION |
| - | - | - |
| | - | The world's most comprehensive digital interactive DNA database |
| | - | A brain implant that allows communications with digital devices |
| | - | The COLREGs compliant autonomous navigation system on ES |
| | - | An investigative reporter and good friend to John |
| | - | |
| | - | Computer genius, programmer and electronics design |
| | - | An advanced solar & hydrogen powered trimaran ship |
| | - | John's mentor, a solicitor with Swindles & Gentry |
| | - | Hauntings of Ernest Shackleton, Robert Scott & Roald Amundsen |
| | - | A container cargo vessel operated by Huyndai Merchant Marine |
| | - | 'Arktiki,' British Antarctic Survey icebreaker |
| | - | Storm's hybrid Cherokee 4x4, classic vehicle conversion |
| | - | BBC TV worlds news service presenter anchor |
| | - | The lead character in this adventure series (Master & Commander) |
| | - | The artificially intelligent AI onboard the Elizabeth Swann |
| | - | British & Commonwealth head of state |
| | - | British & Commonwealth head of state |
| | - | The ship's cat, sacred Temple animals, Ancient Egyptian |
| | - | The Swann's weapons (Excalibur & Pendragon) targeting system |
| | - | The richest man on the planet, turned conservation philanthropist |
| | - | The reincarnated, former Queen Cleopatra, Pharaoh of Egypt |
| | - | The Bishop Supreme, Catholic Church, The Vatican |
| | - | John's inventive genius uncle |
| | - | A brand of healthy beverages, John Storm is partial to |
| | - | Brilliant marine biologist, friend & former lover of Commander Storm |
| | - | UK's leading politician (Honest Johnson) a truthful candidate |
| | - | Supreme Commander, US military |
| - | - | - |
| | | |
| --- | --- | --- |
| CHARACTERS: ANTAGONISTS | - | DESCRIPTION |
| | - | |
| | - | Swedish venture lead ( headstrong freelancer) |
| | - | Antarctic explorer (CIA) US - Canadian group |
| | - | Russian Admiral discovered Antarctica & fossilized insect jaw |
| | - | Army Captain, Ohio, USA, 1818 Antarctic hole theory |
| | - | Giant prehistoric Sectasaur dino- insect, trying to survive |
| | - | Chinese paleo-biologist, pharmacological expert |
| | - | Child genius & martial arts champion (Chinese Pharma+) |
| | - | Opportunist, British Geographical Society |
| | - | Harry Windsor, Army reserve, Maritime Pt. Squadron, Southampton |
| | - | Professor of Maritime History & oceanographer |
| | - | Bjorn's Swedish Navigator & geologist, tough guy |
| | - | Chinese geological scientist & martial arts expert |
| | - | |