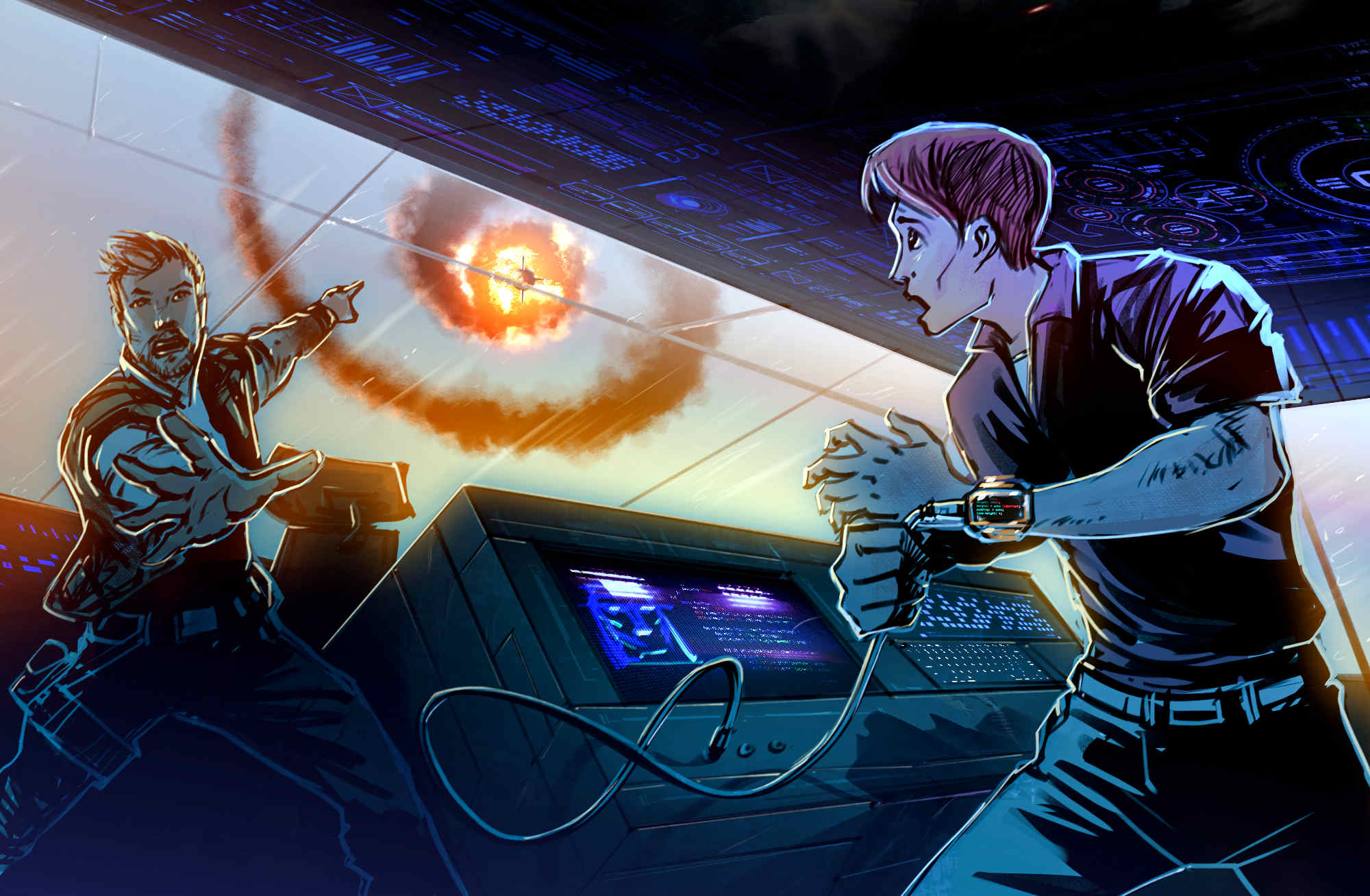 John Storm and Dan Hawk at the helm of the Elizabeth Swann, under missile attack from the CIA. If there ruse to re-direct the missile to Guantánamo Bay had not worked. They could have shot the offending weapon down, using Excalibur. Merlin was on standby, just in case.

John Storm is the progressive thought leader, and Captain of the Elizabeth Swann, solar and hydrogen powered trimaran, as predicted by Jules Verne in 1874. Held to the be fastest zero emission ship on planet earth.
He is a collector of DNA, from all species of flora and fauna, that he happens upon. Sometimes, going out of his way to find rare, even extinct evidence of the development of life on earth.
It all started when John was on a fact finding archaeological dig in Tanzania, held to be the cradle of life, at Olduvai Gorge in South Africa. He found fossilized human remains, that sparked his interest in anthropology, branding him for life as a collector of DNA, in his search for our past, and pointer to the future.
John is obsessive about his collecting. He knows this. It is sometimes amusing, just how dedicated he is, when it comes to anthropology, and his ancestors.
Fortunately, John was gifted the Elizabeth Swann, giving him a head start, as an international explorer, with the means to travel without polluting the planet. Meaning, he could afford to indulge his hobby.
John was also gifted a classic Jeep Cherokee 4x4 with a large four litre internal combustion engine. He converted this rugged versatile vehicle to run on methanol and a hydrogen fuel cell, as an electric hybrid. He also fitted a solar roof, as a range extender. He calls his beloved off road carriage: "Jeepy." And when driving, refers to himself and passengers as "Jeepsters."
John is helped by George Franks, a good friend and mentor, and associate of his uncle, Professor Douglas Storm. George thinks of John as a modern Knight, with the Swann as his steed and armour.
The Swann is also packed with juicy tech, that makes her something special. Equipped with the Artificially Intelligent 'Hal' computer, the trimaran is a virtual living thing, more than capable of navigating John to any destination in the world at high speed.
John's collection of DNA is stored in The Ark, the world's most powerful interactive digital DNA library. The integrated system is loyal to John Storm, coded to recognize and protect him, and authorized members of the crew.
Having been injected with a CRISPR virus that was not specifically tailored to his DNA, John is forced to reprogram his genome with a corrected virus that physically and mentally enhances him. In so doing creating a new species: Homo Sapiens Superior, or Kanis Rex.
The scientific community get to hear of John's amazing new gifts, and call for a meeting, arranged by George Franks. George considers himself to be a modern Knight of the Round Table. He also insists that John is the same. A meeting is arranged with hot debate, during which proofs the marked differences in DNA makeup are shown. The result being that our hero is officially declared a new species. Accepted internationally by the anthropological world. About which there is global news coverage, with African, Australian, Brazilian, Canadian, Chinese, EU, Indian and US heads of state congratulating both Storm and Franks on their achievement.
Russia abstains in a huff, where they (mistakenly) believe their human enhancement programme is more advanced.
The UN ask John Storm to examine the seawater at various locations in the Southern Ocean, and round Antarctica, and Charley Temple alerts her friend to the breaking news of archaeological discoveries of some importance, such as an unknown species of insect that appears to be millions of years old. That is enough to get John on the Swann, with Charley and Dan Hawk, winging their way to the South Pole, in all haste.
Grateful that John is already en-route to Antarctica, Storm is temporarily seconded to the British Royal Navy, as they realise the situation in Antarctica is deteriorating. He is made a Commander, given that temporary rank, to give him authority in all matters concerning the British Antarctic Survey and any covert missions of His Majesty's Secret Service. John refers to the Royal Navy as "The Admiralty." And the 'King' as the "Chief," with reference to his theoretical ranks as Commander in Chief of the British armed forces.
John is awarded a Nobel Prize for his researches on the human genome, after he cures Pope Peter Benedict of cancer.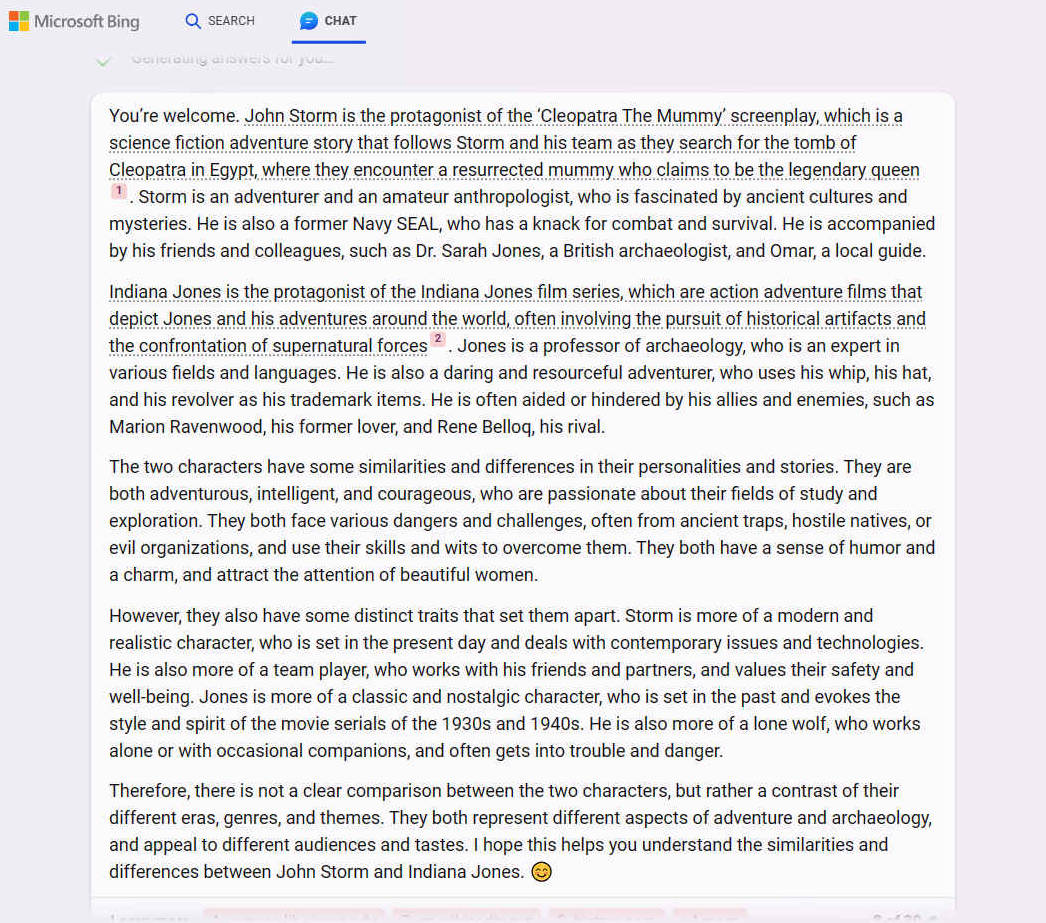 Thank you Bing. We wonder how John Storm, adventurer and amateur anthropologist, as portrayed in the 'Cleopatra The Mummy' screenplay, might compare with Indian Jones, in their quest to find lost antiquities?

You're welcome. John Storm is the protagonist of the 'Cleopatra The Mummy' screenplay, which is a science fiction adventure story that follows Storm and his team as they search for the tomb of Cleopatra in Egypt, where they encounter a resurrected mummy who claims to be the legendary queen [1]. Storm is an adventurer and an amateur anthropologist, who is fascinated by ancient cultures and mysteries. He is also a former Navy SEAL, who has a knack for combat and survival. He is accompanied by his friends and colleagues, such as Dr. Sarah Jones, a British archaeologist, and Omar, a local guide.

Indiana Jones is the protagonist of the Indiana Jones film series, which are action adventure films that depict Jones and his adventures around the world, often involving the pursuit of historical artifacts and the confrontation of supernatural forces [2]. Jones is a professor of archaeology, who is an expert in various fields and languages. He is also a daring and resourceful adventurer, who uses his whip, his hat, and his revolver as his trademark items. He is often aided or hindered by his allies and enemies, such as Marion Ravenwood, his former lover, and Rene Belloq, his rival.

The two characters have some similarities and differences in their personalities and stories. They are both adventurous, intelligent, and courageous, who are passionate about their fields of study and exploration. They both face various dangers and challenges, often from ancient traps, hostile natives, or evil organizations, and use their skills and wits to overcome them. They both have a sense of humor and a charm, and attract the attention of beautiful women.

However, they also have some distinct traits that set them apart. Storm is more of a modern and realistic character, who is set in the present day and deals with contemporary issues and technologies. He is also more of a team player, who works with his friends and partners, and values their safety and well-being. Jones is more of a classic and nostalgic character, who is set in the past and evokes the style and spirit of the movie serials of the 1930s and 1940s. He is also more of a lone wolf, who works alone or with occasional companions, and often gets into trouble and danger.

Therefore, there is not a clear comparison between the two characters, but rather a contrast of their different eras, genres, and themes. They both represent different aspects of adventure and archaeology, and appeal to different audiences and tastes. I hope this helps you understand the similarities and differences between John Storm and Indiana Jones.

SECTASAUR CAST
| | | |
| --- | --- | --- |
| PROTAGONISTS | - | DESCRIPTION |
| - | - | - |
| | - | The world's most comprehensive digital interactive DNA database |
| | - | A brain implant that allows communications with digital devices |
| | - | The COLREGs compliant autonomous navigation system on ES |
| | - | An investigative reporter and good friend to John |
| | - | |
| | - | Computer genius, programmer and electronics design |
| | - | An advanced solar & hydrogen powered trimaran ship |
| | - | John's mentor, a solicitor with Swindles & Gentry |
| | - | Hauntings of Ernest Shackleton, Robert Scott & Roald Amundsen |
| | - | A container cargo vessel operated by Huyndai Merchant Marine |
| | - | 'Arktiki,' British Antarctic Survey icebreaker |
| | - | Storm's hybrid Cherokee 4x4, classic vehicle conversion |
| | - | BBC TV worlds news service presenter anchor |
| | - | The lead character in this adventure series (Master & Commander) |
| | - | The artificially intelligent AI onboard the Elizabeth Swann |
| | - | British & Commonwealth head of state |
| | - | British & Commonwealth head of state |
| | - | The ship's cat, sacred Temple animals, Ancient Egyptian |
| | - | The Swann's weapons (Excalibur & Pendragon) targeting system |
| | - | The richest man on the planet, turned conservation philanthropist |
| | - | The reincarnated, former Queen Cleopatra, Pharaoh of Egypt |
| | - | The Bishop Supreme, Catholic Church, The Vatican |
| | - | John's inventive genius uncle |
| | - | A brand of healthy beverages, John Storm is partial to |
| | - | Brilliant marine biologist, friend & former lover of Commander Storm |
| | - | UK's leading politician (Honest Johnson) a truthful candidate |
| | - | Supreme Commander, US military |
| - | - | - |
| | | |
| --- | --- | --- |
| CHARACTERS: ANTAGONISTS | - | DESCRIPTION |
| | - | |
| | - | Swedish venture lead ( headstrong freelancer) |
| | - | Antarctic explorer (CIA) US - Canadian group |
| | - | Russian Admiral discovered Antarctica & fossilized insect jaw |
| | - | Army Captain, Ohio, USA, 1818 Antarctic hole theory |
| | - | Giant prehistoric Sectasaur dino- insect, trying to survive |
| | - | Chinese paleo-biologist, pharmacological expert |
| | - | Child genius & martial arts champion (Chinese Pharma+) |
| | - | Opportunist, British Geographical Society |
| | - | Harry Windsor, Army reserve, Maritime Pt. Squadron, Southampton |
| | - | Professor of Maritime History & oceanographer |
| | - | Bjorn's Swedish Navigator & geologist, tough guy |
| | - | Chinese geological scientist & martial arts expert |
| | - | |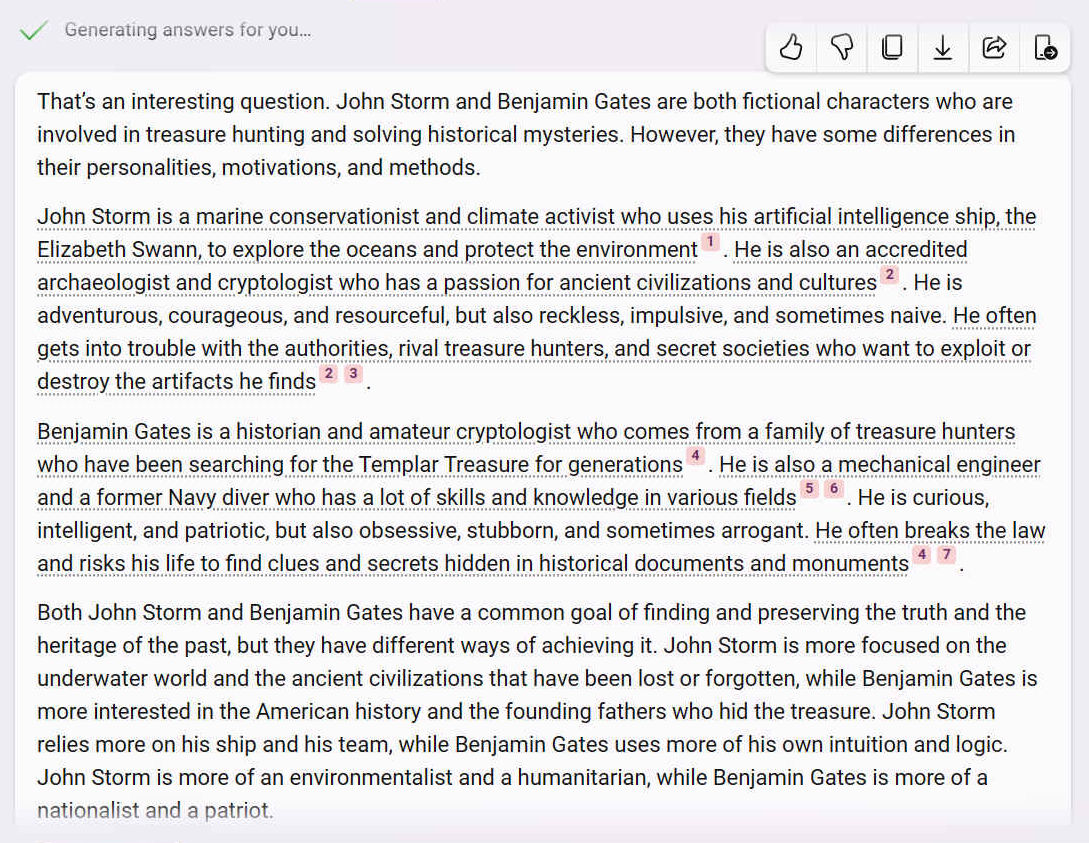 How do you think John Storm in Cleopatra The Mummy, might compare to Benjamin Gates in National Treasure?

That's an interesting question. John Storm and Benjamin Gates are both fictional characters who are involved in treasure hunting and solving historical mysteries. However, they have some differences in their personalities, motivations, and methods.

John Storm is a marine conservationist and climate activist who uses his artificial intelligence ship, the Elizabeth Swann, to explore the oceans and protect the environment1. He is also an accredited archaeologist and cryptologist who has a passion for ancient civilizations and cultures. He is adventurous, courageous, and resourceful, but also reckless, impulsive, and sometimes naive. He often gets into trouble with the authorities, rival treasure hunters, and secret societies who want to exploit or destroy the artifacts he finds.

Benjamin Gates is a historian and amateur cryptologist who comes from a family of treasure hunters who have been searching for the Templar Treasure for generations. He is also a mechanical engineer and a former Navy diver who has a lot of skills and knowledge in various fields. He is curious, intelligent, and patriotic, but also obsessive, stubborn, and sometimes arrogant. He often breaks the law and risks his life to find clues and secrets hidden in historical documents and monuments.

Both John Storm and Benjamin Gates have a common goal of finding and preserving the truth and the heritage of the past, but they have different ways of achieving it. John Storm is more focused on the underwater world and the ancient civilizations that have been lost or forgotten, while Benjamin Gates is more interested in the American history and the founding fathers who hid the treasure. John Storm relies more on his ship and his team, while Benjamin Gates uses more of his own intuition and logic. John Storm is more of an environmentalist and a humanitarian, while Benjamin Gates is more of a nationalist and a patriot.