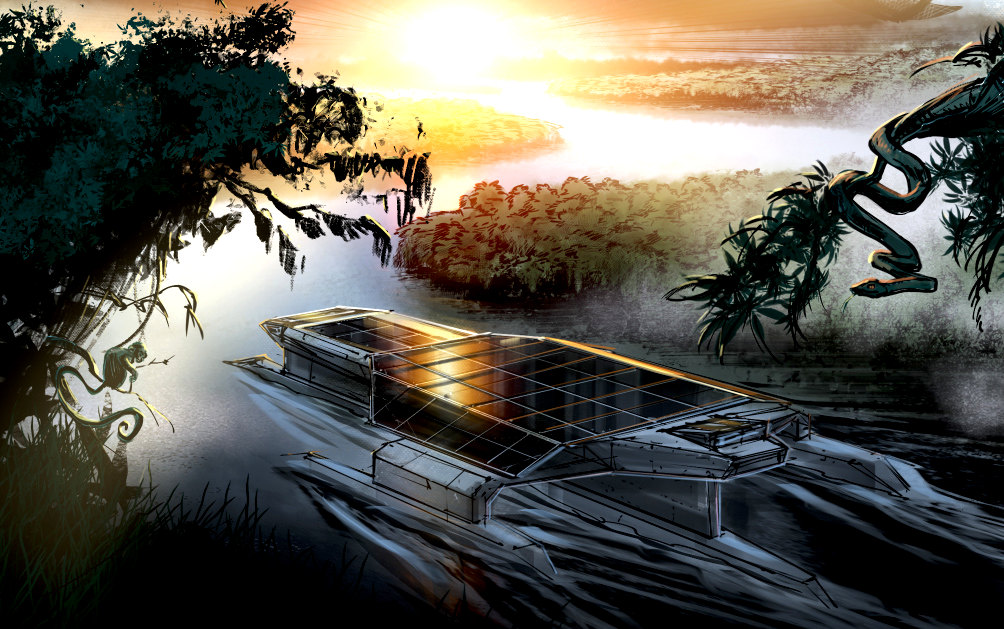 The Elizabeth Swann, cruising up the Amazon, to Manaus

The Elizabeth Swann is a technological marvel. She is solar and hydrogen powered, as predicted by Jules Verne in 1874. Held to the be fastest zero emission ship on planet earth.
The Swann does not receive as much solar assistance while in southern latitudes, thus is more dependent on green hydrogen fuel compounds. Of which, John Storm and Dan Hawk are acutely aware.
The vessel is also packed with juicy tech, that makes her something special. Equipped with the Artificially Intelligent 'Hal' computer, the trimaran is a virtual living thing, an autonomous (robotic) lifeform, more than capable of navigating anywhere in the world at high speed, without polluting the atmosphere or the oceans. Hal is capable of exceeding the Turing Test, being far more knowledgeable and intelligent, than most humans, regardless of their Intelligence Quotient (IQ).
In addition, the Swann is equipped with a stunning sensor array, split beam sonars, magnetometers, water chemical analysis via a virtual laboratory, drone aerial surveillance, and satellite interfaces - making her self aware and in tune with her surroundings. The ship also houses The Ark, the world's most powerful interactive digital DNA library.
Hal, works with Captain Nemo, the autonomous navigation system that includes object recognition, so as to be more than COLREGs; Collision Avoidance Regulations compliant, to satisfy the International Maritime Organization's (IMO) requirements.
The integrated system is loyal to John Storm, coded to recognize and protect him, and other authorized members of the crew.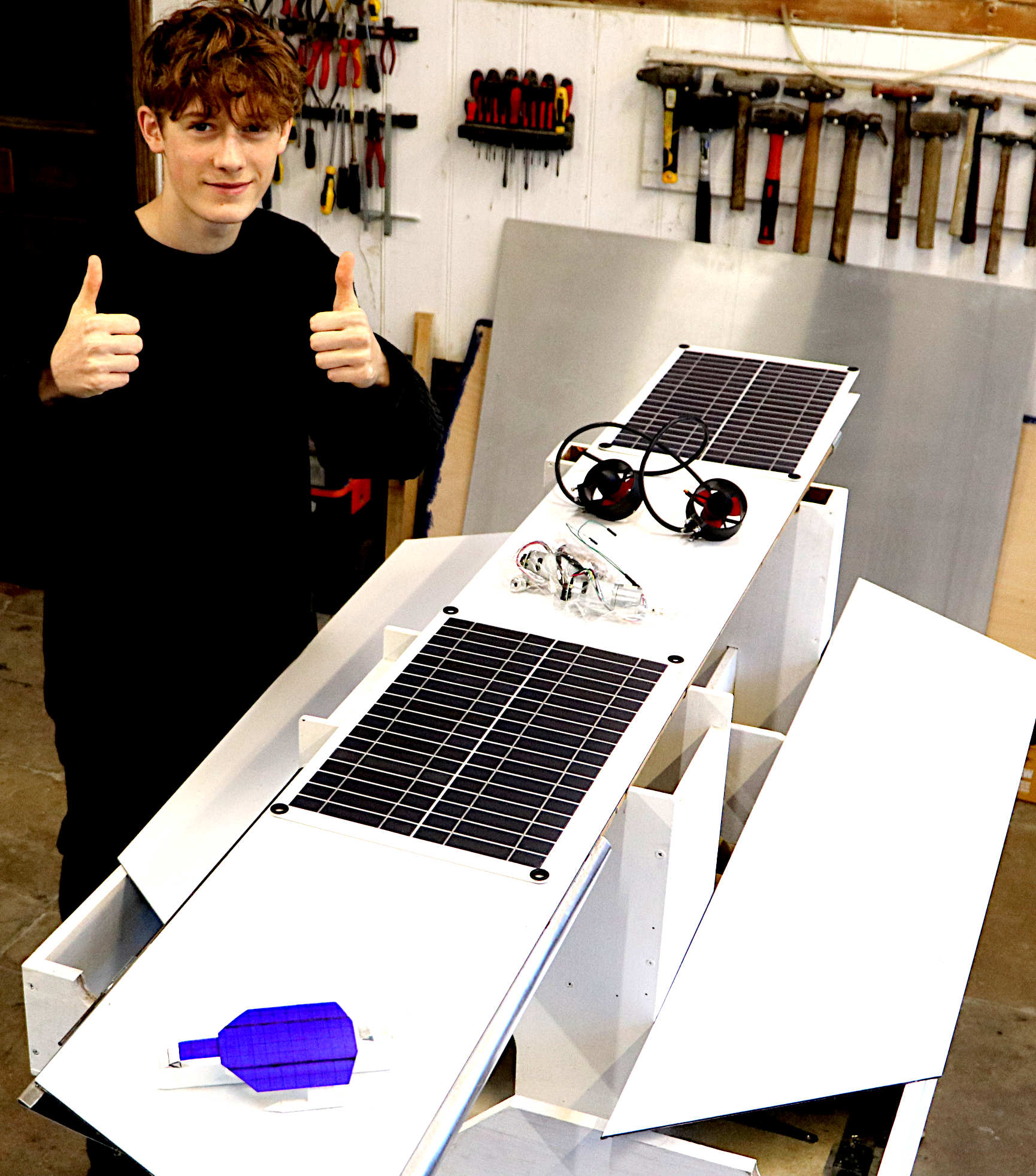 PROOF OF CONCEPT - The Elizabeth Swann under construction for tank testing @ 1:20 scale
SECTASAUR CAST
| | | |
| --- | --- | --- |
| PROTAGONISTS | - | DESCRIPTION |
| - | - | - |
| | - | The world's most comprehensive digital interactive DNA database |
| | - | A brain implant that allows communications with digital devices |
| | - | The COLREGs compliant autonomous navigation system on ES |
| | - | An investigative reporter and good friend to John |
| | - | |
| | - | Computer genius, programmer and electronics design |
| | - | An advanced solar & hydrogen powered trimaran ship |
| | - | John's mentor, a solicitor with Swindles & Gentry |
| | - | Hauntings of Ernest Shackleton, Robert Scott & Roald Amundsen |
| | - | A container cargo vessel operated by Huyndai Merchant Marine |
| | - | 'Arktiki,' British Antarctic Survey icebreaker |
| | - | Storm's hybrid Cherokee 4x4, classic vehicle conversion |
| | - | BBC TV worlds news service presenter anchor |
| | - | The lead character in this adventure series (Master & Commander) |
| | - | The artificially intelligent AI onboard the Elizabeth Swann |
| | - | British & Commonwealth head of state |
| | - | British & Commonwealth head of state |
| | - | The ship's cat, sacred Temple animals, Ancient Egyptian |
| | - | The Swann's weapons (Excalibur & Pendragon) targeting system |
| | - | The richest man on the planet, turned conservation philanthropist |
| | - | The reincarnated, former Queen Cleopatra, Pharaoh of Egypt |
| | - | The Bishop Supreme, Catholic Church, The Vatican |
| | - | John's inventive genius uncle |
| | - | A brand of healthy beverages, John Storm is partial to |
| | - | Brilliant marine biologist, friend & former lover of Commander Storm |
| | - | UK's leading politician (Honest Johnson) a truthful candidate |
| | - | Supreme Commander, US military |
| - | - | - |
| | | |
| --- | --- | --- |
| CHARACTERS: ANTAGONISTS | - | DESCRIPTION |
| | - | |
| | - | Swedish venture lead ( headstrong freelancer) |
| | - | Antarctic explorer (CIA) US - Canadian group |
| | - | Russian Admiral discovered Antarctica & fossilized insect jaw |
| | - | Army Captain, Ohio, USA, 1818 Antarctic hole theory |
| | - | Giant prehistoric Sectasaur dino- insect, trying to survive |
| | - | Chinese paleo-biologist, pharmacological expert |
| | - | Child genius & martial arts champion (Chinese Pharma+) |
| | - | Opportunist, British Geographical Society |
| | - | Harry Windsor, Army reserve, Maritime Pt. Squadron, Southampton |
| | - | Professor of Maritime History & oceanographer |
| | - | Bjorn's Swedish Navigator & geologist, tough guy |
| | - | Chinese geological scientist & martial arts expert |
| | - | |