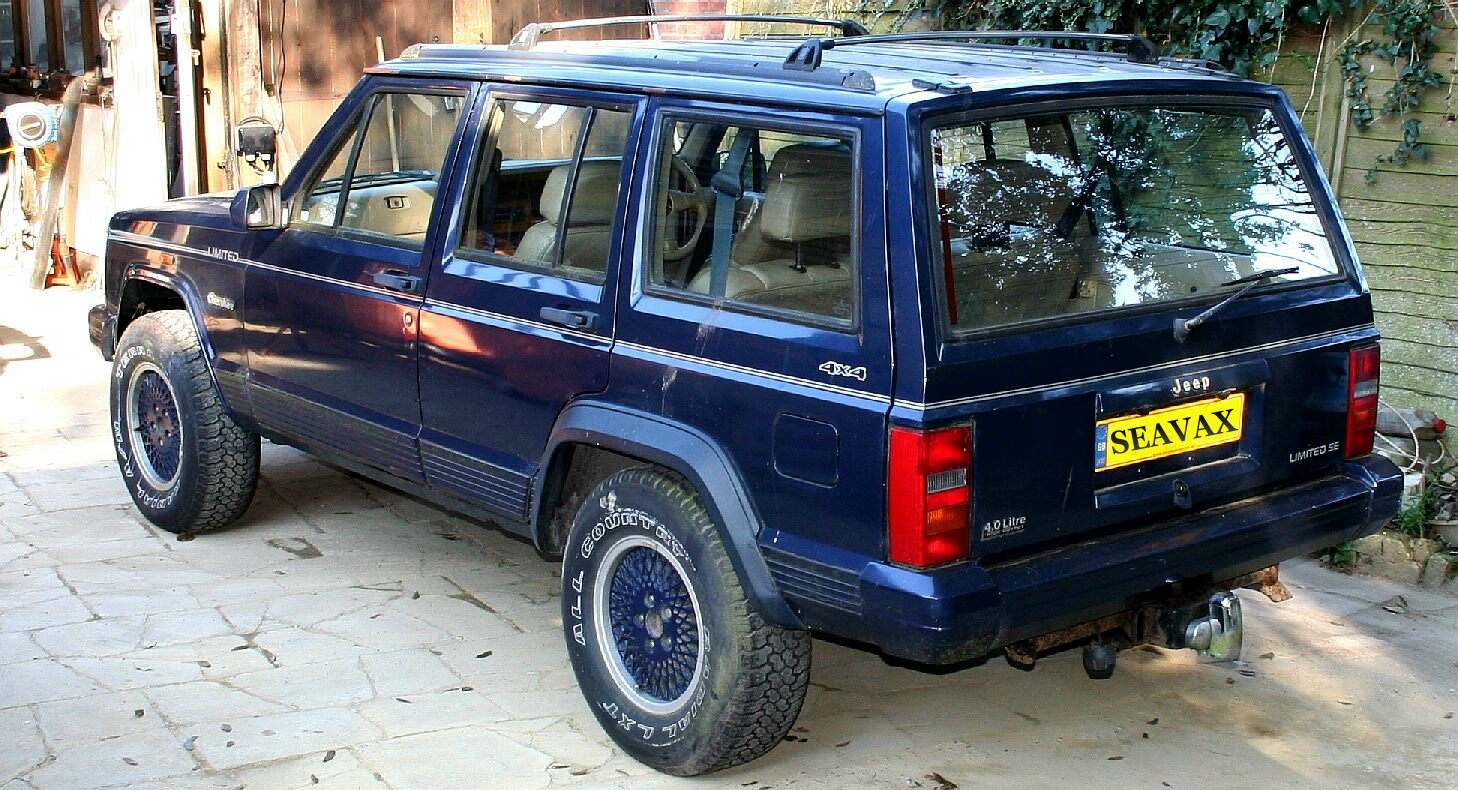 JEEPY - The Jeep Cherokee that Professor Douglas Storm gave to John - in need of much work. Previously used in connection with an ocean research project.

In his quest to complete his DNA collection, John Storm relies on a classic Jeep Cherokee 4x4 all wheel drive, rugged off road vehicle, to reach those out of the way places. Such as his exploration of the South Africa and Egypt, where sand replaces roads. And then of course there are Brazilian jungles.
His uncle, Professor Douglas Storm, gifted him the Cherokee well before the Elizabeth Swann, before he went missing. When John first got the vehicle, it was a mess. They were prone to rust on the sills. The window seals were also a problem. The petrol (Gasoline) consumption was quite horrendous. An appalling fuel economy, that worried John, as he is a conservationist. But he was very fond of it's off road capabilities and the rugged nature or the truck. For this reason, he elected to fit a methanol conversion to the four litre internal combustion engine. He always bought green fuels, or those with carbon offset, such as to be CO2 neutral; a Zero Emission Vehicle (ZEV).
John set about restoring the truck. This soon led to improvements, such as a composite roof with solar panels, to generate power for his equipment, and keep the batteries charged when not in use for long periods. Then John added electric drive, using a fuel cells to convert hydrogen. The vehicle thus became a zero emission hybrid.
He collects DNA, from all species of flora and fauna, that he happens upon. Sometimes, going out of his way to find rare, even extinct evidence of the development of life on earth.
It all started when John was on a fact finding archaeological dig in Tanzania, held to be the cradle of life, at Olduvai Gorge in South Africa. He found fossilized human remains, that sparked his interest in anthropology, branding him for life as a collector of DNA, in his search for our past, and pointer to the future.
John is obsessive about his collecting. He knows this. It is sometimes amusing, just how dedicated he is, when it comes to anthropology, and his ancestors.
John's collection of DNA is stored in The Ark, the world's most powerful interactive digital DNA library. The integrated system is loyal to John Storm, coded to recognize and protect him, and authorized members of the crew.
SECTASAUR CAST
| | | |
| --- | --- | --- |
| PROTAGONISTS | - | DESCRIPTION |
| - | - | - |
| | - | The world's most comprehensive digital interactive DNA database |
| | - | A brain implant that allows communications with digital devices |
| | - | The COLREGs compliant autonomous navigation system on ES |
| | - | An investigative reporter and good friend to John |
| | - | |
| | - | Computer genius, programmer and electronics design |
| | - | An advanced solar & hydrogen powered trimaran ship |
| | - | John's mentor, a solicitor with Swindles & Gentry |
| | - | Hauntings of Ernest Shackleton, Robert Scott & Roald Amundsen |
| | - | A container cargo vessel operated by Huyndai Merchant Marine |
| | - | 'Arktiki,' British Antarctic Survey icebreaker |
| | - | Storm's hybrid Cherokee 4x4, classic vehicle conversion |
| | - | BBC TV worlds news service presenter anchor |
| | - | The lead character in this adventure series (Master & Commander) |
| | - | The artificially intelligent AI onboard the Elizabeth Swann |
| | - | British & Commonwealth head of state |
| | - | British & Commonwealth head of state |
| | - | The ship's cat, sacred Temple animals, Ancient Egyptian |
| | - | The Swann's weapons (Excalibur & Pendragon) targeting system |
| | - | The richest man on the planet, turned conservation philanthropist |
| | - | The reincarnated, former Queen Cleopatra, Pharaoh of Egypt |
| | - | The Bishop Supreme, Catholic Church, The Vatican |
| | - | John's inventive genius uncle |
| | - | A brand of healthy beverages, John Storm is partial to |
| | - | Brilliant marine biologist, friend & former lover of Commander Storm |
| | - | UK's leading politician (Honest Johnson) a truthful candidate |
| | - | Supreme Commander, US military |
| - | - | - |
| | | |
| --- | --- | --- |
| CHARACTERS: ANTAGONISTS | - | DESCRIPTION |
| | - | |
| | - | Swedish venture lead ( headstrong freelancer) |
| | - | Antarctic explorer (CIA) US - Canadian group |
| | - | Russian Admiral discovered Antarctica & fossilized insect jaw |
| | - | Army Captain, Ohio, USA, 1818 Antarctic hole theory |
| | - | Giant prehistoric Sectasaur dino- insect, trying to survive |
| | - | Chinese paleo-biologist, pharmacological expert |
| | - | Child genius & martial arts champion (Chinese Pharma+) |
| | - | Opportunist, British Geographical Society |
| | - | Harry Windsor, Army reserve, Maritime Pt. Squadron, Southampton |
| | - | Professor of Maritime History & oceanographer |
| | - | Bjorn's Swedish Navigator & geologist, tough guy |
| | - | Chinese geological scientist & martial arts expert |
| | - | |