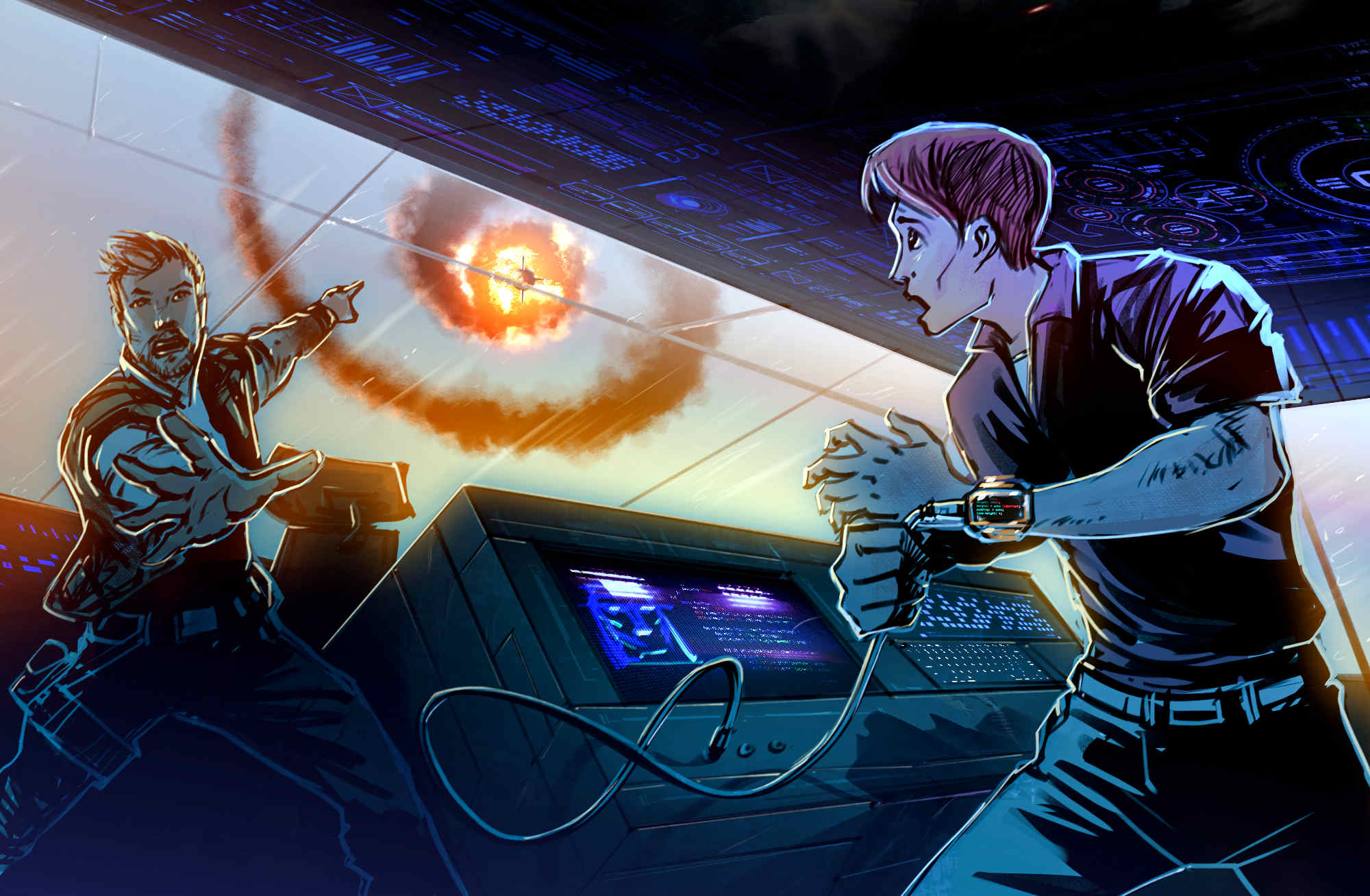 John Storm and Dan Hawk at the helm of the Elizabeth Swann, under missile attack from the CIA. If there ruse to re-direct the missile to Guantánamo Bay had not worked. They could have shot the offending weapon down, using Excalibur. Merlin was on standby, just in case.

Musket (Klusky) Meloni is a very wealthy multi billionaire, on his way to becoming the world's first trillionaire at some point in the future, who is looking to find a way to live longer, having experienced a cancer scare. He wants to be able to enjoy his banking empire, built on lending and percentage transaction charges, and selling loans and insurance services, as a credit broker. He is thus seen to be the world's biggest financial slaver. Responsible for a massive carbon footprint.
Meloni wants to move into high tech human enhancements and cloning of replacement bodies for end of life transitions. Meloni sees this as a major growth market, for the exclusive two thousand, plus, billionaires club. And the most promising way of reaching the coveted 1st title, that seemed so elusive only 20 years earlier.
The would be trillionaire is infected with cancer at stage two, kept localised and at bay with various treatments.
Musket Meloni is a fictional character in the John Storm adventure series. He is an exceptionally dangerous adversary for anyone who stands in his way. Meloni is deeply troubled by the state of the planet, unbalanced as it is with mankind's over exploitation of Earth, climate change and air pollution, who has had a rather nasty brush with cancer, and is worried about its return.
Of course, it is the super-heated economy that Musket and his billionaire buddies helped politicians to encourage, with never ending growth policies that had nowhere to go, except to poison the over-populated planet. Thus, he and others like him are reaping what the sowed. Much as cryptocurrencies, are artificial. A form of gambling, where pensioners can ill afford debt that reduces what they have to live on. And inflation does just that; reduces the value of their savings. In some cases by as much as 10% per year.
Meloni had been fascinated by the prospect of giant insects in Antarctica, ever since learning of Bellinghausen's fossil jaw find, and made his interest known to the US, with some backdoor funding, should the DNA or other rights become available. He was amazed when John Storm and the crew of the Elizabeth Swann cured Pope Peter Benedict of stage four cancer. He also knows the Storm has been called in by the UN, as a precaution against exploitation of the polar South Pole.
Meloni is keen to protect the Antarctic, and secure any prehistoric finds for posterity. Working in the background, he materially assists John Storm and his crew, against rival teams. This is his way of evening the score, where some of his hired hands, did not play fair in earlier dealings.
SECTASAUR CAST
| | | |
| --- | --- | --- |
| PROTAGONISTS | - | DESCRIPTION |
| - | - | - |
| | - | The world's most comprehensive digital interactive DNA database |
| | - | A brain implant that allows communications with digital devices |
| | - | The COLREGs compliant autonomous navigation system on ES |
| | - | An investigative reporter and good friend to John |
| | - | |
| | - | Computer genius, programmer and electronics design |
| | - | An advanced solar & hydrogen powered trimaran ship |
| | - | John's mentor, a solicitor with Swindles & Gentry |
| | - | Hauntings of Ernest Shackleton, Robert Scott & Roald Amundsen |
| | - | A container cargo vessel operated by Huyndai Merchant Marine |
| | - | 'Arktiki,' British Antarctic Survey icebreaker |
| | - | Storm's hybrid Cherokee 4x4, classic vehicle conversion |
| | - | BBC TV worlds news service presenter anchor |
| | - | The lead character in this adventure series (Master & Commander) |
| | - | The artificially intelligent AI onboard the Elizabeth Swann |
| | - | British & Commonwealth head of state |
| | - | British & Commonwealth head of state |
| | - | The ship's cat, sacred Temple animals, Ancient Egyptian |
| | - | The Swann's weapons (Excalibur & Pendragon) targeting system |
| | - | The richest man on the planet, turned conservation philanthropist |
| | - | The reincarnated, former Queen Cleopatra, Pharaoh of Egypt |
| | - | The Bishop Supreme, Catholic Church, The Vatican |
| | - | John's inventive genius uncle |
| | - | A brand of healthy beverages, John Storm is partial to |
| | - | Brilliant marine biologist, friend & former lover of Commander Storm |
| | - | UK's leading politician (Honest Johnson) a truthful candidate |
| | - | Supreme Commander, US military |
| - | - | - |
| | | |
| --- | --- | --- |
| CHARACTERS: ANTAGONISTS | - | DESCRIPTION |
| | - | |
| | - | Swedish venture lead ( headstrong freelancer) |
| | - | Antarctic explorer (CIA) US - Canadian group |
| | - | Russian Admiral discovered Antarctica & fossilized insect jaw |
| | - | Army Captain, Ohio, USA, 1818 Antarctic hole theory |
| | - | Giant prehistoric Sectasaur dino- insect, trying to survive |
| | - | Chinese paleo-biologist, pharmacological expert |
| | - | Child genius & martial arts champion (Chinese Pharma+) |
| | - | Opportunist, British Geographical Society |
| | - | Harry Windsor, Army reserve, Maritime Pt. Squadron, Southampton |
| | - | Professor of Maritime History & oceanographer |
| | - | Bjorn's Swedish Navigator & geologist, tough guy |
| | - | Chinese geological scientist & martial arts expert |
| | - | |
DAILY EXPRESS 7 DECEMBER 2022 - IT WILL WIPE OUT EVERY DOLLAR IN THE WORLD - NEW CRASH FEARS AS $80 TRILLION 'GOES MISSING'

This warning does not come from some headline-grabbing doomsayer but arguably the most respectable financial body of all, the Bank of International Settlements (BIS). This is a body of central bankers based in Basle, Switzerland.

BIS is know as "the central banker's banker", an umbrella body for august institutions such as the Bank of England, US Federal Reserve and European Central Bank.

Its researchers can predict financial crises three years in advance using machine learning to aggregate predictions from different models.

Now they are warning of a crash the scale of which we have never seen before, with a staggering $80trillion (£65trillion) at stake.

To put that into perspective, the global financial crisis was triggered by the collapse of Wall Street investment bank Lehman Brothers (Bank of Evil, Despicable Me) in September 2008.

That was the largest corporate bankruptcy in US history but its debts totalled "just" $619billion. That is less than one percent of the sums at stake today.

One global financial expert contacted by Express.co.uk said a hidden corner of the finance world has been stretched to an "unsustainable" point, leaving the world in a "dangerous position".

It is yet another sign that global finance has got far too big for its boots, leaving the world at its mercy.

Millions of pensioners could miss out on this cash boost worth £400 as they do not know they are eligible. As the cost of living crisis continues, Britons on low incomes are urged to claim all the benefits they are entitled to as it could be vital in the upcoming months.

Who is eligible and how can the money be claimed? Find out HERE.

The threat is lurking in the foreign exchange debt swap market, which is so complex few understand it and there is little control over its workings.

Reuters reports that pension funds and other "non-bank" financial firms have more than $80trillion of hidden, off-balance sheet dollar debt in FX swaps.

BIS described as the FX swap debt market as a "blind spot" that risks leaving policymakers in a total "fog", the latest BIS quarterly report said.

A Dutch pension fund or Japanese insurer could use 'borrow dollars' then lend them as euros or Japanese yen, before later repaying them.

The FX swap market has a history of problems, including funding squeezes during both the global financial crisis and again in the early days of the Covid pandemic, before the Federal Reserve raced to the rescue.

Terrifyingly, the $80trillion-plus "hidden" debt estimate is greater than the total stocks of US dollar Treasury bills, repo and commercial paper in circulation combined, BIS said.

In other words, it's bigger than the mighty dollar.

It has grown from $55trillion to $80trillion in a decade, with daily FX swap deals totalling a massive $5 trillion a day.

Non-US banks and pensions funds have twice as much FX swap dollar obligations as the amount of dollar debt that is listed on their balance sheets.

"The missing dollar debt from FX swaps/forwards and currency swaps is huge," BIS said.

Yet nobody knows where this debt is and how much it is worth in total.

Vijay Valecha, chief investment officer at Century Financial, said this $80trillion market is a massive concern since it does not appear on balance sheets and is absent from statistics. Effectively, it has gone missing.

"The sheer scale of it raises worrisome questions as a debt load this high is frequently regarded as unsustainable."

Investors have been "aggressively" borrowing US dollars to invest, a risky strategy known as leverage designed to generate high returns at a time when interest rates were extremely low, he said.

"Now, rising rates and volatile asset prices make high leverage dangerous, even more so because it is hidden."

The safe haven greenback dollar has rocketed by up to 18 percent this year making dollar debt more expensive. Dollar shortages would force foreign owners of dollar assets to offload them in a global fire sale if short of cash, contributing to downward price spirals, Valecha warned.

The world would be helpless in the face of a meltdown on this scale, yet nobody has any control over the market.

The next financial crisis threatens to be even bigger than the last one.
We ask, if this level of digital/paper money shuffling, should be allowed. It makes a nonsense of anyone, or country, trying to keep their feet on planet earth. Something, the fictional Prime Minister, Edward (Honest John) Thomas, is violently opposed to.
DAILY EXPRESS 3 DECEMBER 2022 - FTX COLLAPSE SPURS 'JAW DROPPING' FINANCIAL LOSSES - WHAT'S NEXT FOR CRYPTO

The recent collapse of FTX has sent ripples through the cryptocurrency industry, leaving many wondering just what might be next for the digital investment space.

The technological phenomenon that is cryptocurrency has offered investors a digital and decentralised marketplace to trade virtual currency through "secure" transactions since its launch in 2009. However, the sudden collapse of FTX, the third largest cryptocurrency exchange headquartered in The Bahamas, which lost FTX investors thousands, has stirred questions and uncertainties around the future.

Dan Ashmore, crypto analyst at CoinJournal, said: "The FTX insolvency is devastating for the entire cryptocurrency industry. Firstly, the shortfall of funds, reportedly north of $8billion (around £6.7billion), is obviously crushing for customers who had been using FTX as their exchange of choice."

But beyond the money, Mr Ashmore continued: "This is also a substantial blow to the reputation of crypto. It is just the latest stunning collapse, following the events of the Terra debacle, which saw a $60billion (around £49billion) ecosystem go up in flames and drag several other projects with it – Celsius, Three Arrows Capital and Voyager Digital, to name a few."

Sam Bankman-Fried is the former CEO of FTX, who founded the platform in 2019 and grew it to be valued at a staggering $32billion (£26.5billion) at one point, before it filed for bankruptcy in early November 2022.

Mr Ashmore added: "For institutions and traditional finance players, this will give a huge pause for thought regarding capital flows into the crypto space. It is tough to overstate how much of a blow to crypto Sam Bankman-Fried's swift fall from grace is.

"While the scale of the financial losses is jaw-dropping, perhaps even bigger is the hit to crypto's reputation as a reputable asset class."

He went on to say the space right now "requires more stringent regulation", before warning that "these events could not be a better reminder of the dangers inherent in the cryptocurrency space."

Mr Ashmore continued: "There are no bailouts in the crypto space. These are not banks, covered by insurance, reserve requirements or other strict regulations.

"The reality is that it is almost impossible to know what exchanges are doing with customers' deposits. Until it becomes too late that is – we will likely know very soon what exactly happened to all the funds caught up in the tangled web of Alameda and FTX."

The recent flows of Bitcoin have shown quite how much the market has been spooked. Mr Ashmore recounted how exchanges experienced one of the largest weekly outflows in Bitcoin history following the FTX collapse, with nearly 73,000 bitcoins departing exchanges.
THE SUN 11 NOV 2021

ELON Musk currently holds the title of the world's richest man, according to reports.

The Tesla and SpaceX boss continues to make more and more money and is currently worth a staggering $281billion, as of November 2021.

WHO ARE THE RICHEST PEOPLE IN THE WORLD 2021?
Forbes has Musk as the world's richest man with a wealth of $281.6bn, in November 2021.

The global media company has a real time list of billionaires with the richest in the world regularly swapping places.

Head of Amazon Jeff Bezos is estimated to be worth $201bn, putting him in second place.

Bezos made the Forbes' famous list of 400 wealthiest Americans all the way back in 1998 - four years after he launched Amazon.

The money continues to flow in even though he gave up millions to his wife in a costly divorce settlement.

French businessman Bernard Arnault and his family, the power behind LVMH, is said to be worth $195.2bn.

He is followed by Microsoft founder Bill Gates ($137.9bn).

Facebook chief Mark Zuckerberg is further down the list in eighth place with an estimated worth of $117.3bn.
FOX BUSINESS NEWS 2020
According to Fox Business, in 2020 the world had 46.8 million millionaires, collectively owning $158.3 trillion. On top of this, there are according to Forbes, 2,153 billionaires.

But how many trillionaires are there?

Firstly, you should know what constitutes a trillionaire. A trillionaire is someone whose wealth is greater than one trillion dollars (or other currency).

In numerals, it's 1,000,000,000,000 and is also known as 10 to the 12th power. It's an astronomical figure that is hard to envisage, so put another way for clarity, it's one million million. A billion is one thousand million.

Currently, not even the richest of the mega rich have enough to qualify for the title of trillionaire.

WHO WAS THE RICHEST BILLIONAIRE IN THE WORLD 2020?

The top spot for the world's richest person often changes, but it's dominated by the usual candidates: Amazon's Jeff Bezos (thought to be the richest person in the world) with a net worth of $121.1 billion, Microsoft's Bill Gates with a net worth of $110.1 billion, Berkshire Hathaway's Warren Buffet with a net worth of $85.7 billion and LVMH's Bernard Arnault & family with a net worth of $104.1 billion.

These sums of money are of course impressive, but they're way off from the fabled trillionaire status.

This doesn't mean that there won't ever be a trillionaire. Financial experts predict that there won't be just one, but around 11 of them within the next 60 years.

The great financial strides that Bezos has made put him in the lead as the person most likely to become the world's first trillionaire.
THE TOP TEN RICHEST - 2022
1. ELON MUSK
2. BERNARD ARNAULT
3. GAUTAM ADANI
4. JEFF BEZOS
5. BILL GATES
6. WARREN BUFFET
7. LARRY ELLISON
8. LARRY PAGE
9. MUKESH AMBANI
10. SERGEY BRIN
https://www.express.co.uk/finance/personalfinance/1704452/ftx-collapse-crypto-future-forecast-exclusive
https://www.express.co.uk/news/us/1695415/FTX-news-cryptocurrency-trader-collapses-bankruptcy
https://www.the-sun.com/news/836173/trillionaires-elon-musk-jeff-bezos-bill-gates/
https://www.foxbusiness.com/lifestyle/how-many-trillionaires-are-there-in-the-world