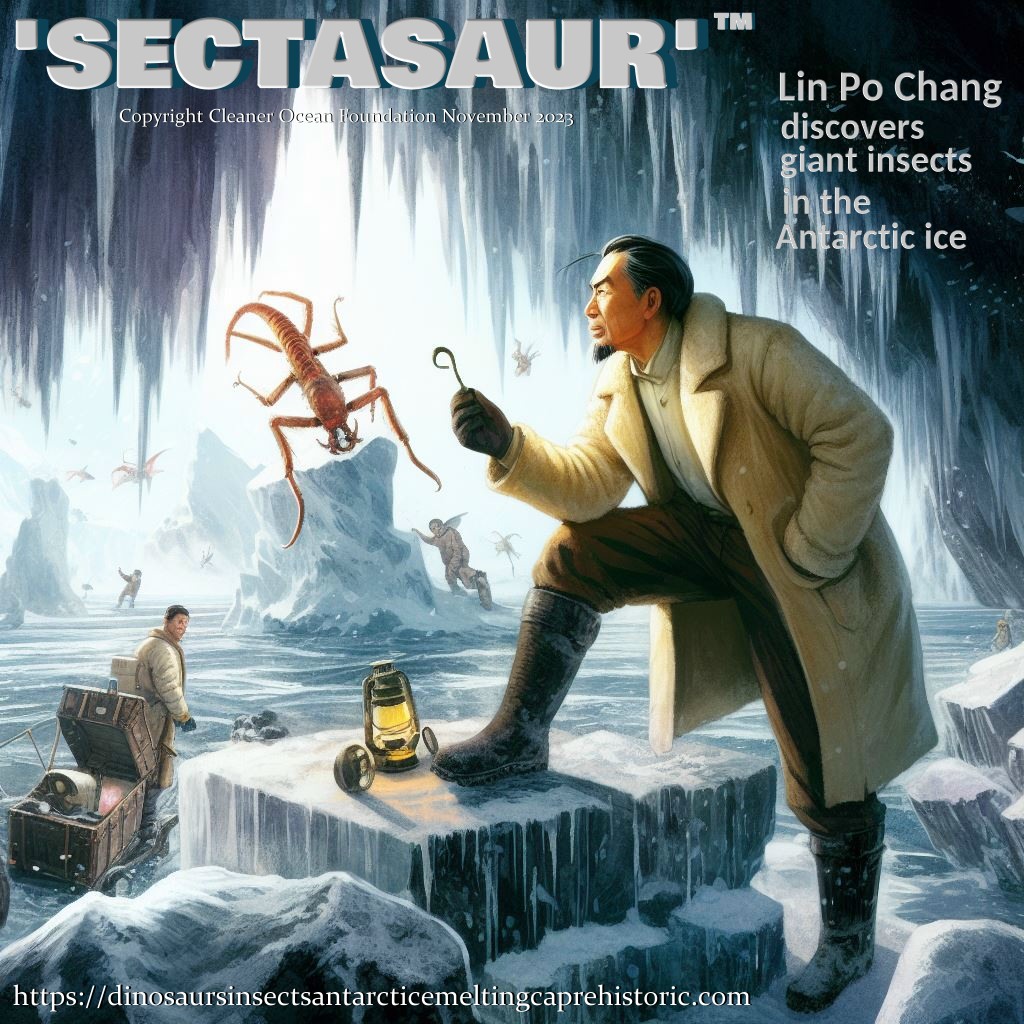 Lin Po Chang discovers giant insects in the Antarctic ice

Lin Po Chang is the leader of a Chinese contingent, sent in and backed by the government to survey for minerals and pharmaceutical companies to secure rights to undiscovered life forms. The military are also keen to get a foothold on Antarctic soil, for when the Treaty will come to an end. Lin Po knows about the fossilized jaw, found by Fabian Bellinghausen. He is also aware of the existence of underground tunnels, from his research on John Cleves Symmes.
The Chinese expeditionary leader was a child genius, chess and martial arts champion. He will stop at nothing to achieve his ambitions, going in with the intention of eliminating the competition if necessary. That is if there is anything to fight over. But, he fully expects to recover valuable insect remains and other fossils.
In this 'Sectasaur' adventure, Lin Po, is the leader of two accompanying scientists, Kublai Shi Jinping and Xi Wu Khan, who do not know of his secret ambition, to bring back any fossil finds for his own gain, and to prevent any United Nations claims, or those of the Swedish, but mainly to gain an advantage over the Americans and Canadians.
'Chang,' has heard of John Storm, dismissing the UN conservation consultant as hyped up spin, to put China off from staking their claims. He does not believe there is a cure for cancer. Though, if he could get his hands on the Elizabeth Swann, and the DNA collection in the Ark, he would rise to the occasion.
Chang is prepared to go to any lengths to achieve his goals, including murdering the opposition, and his own countrymen, when they will not go along with his plans. Unfortunately, Lin Po is not a biologist, and does not understand the life cycle of ants, also thinking the frozen egg is just a fossil sample. Thus, when he packs the egg in a crate filled with food, he does not know that what he is doing is effectively, feeding the larvae. And that it will grow quite quickly. Not at all like the gestation of a human, around nine months, ants develop in a matter of 10 weeks.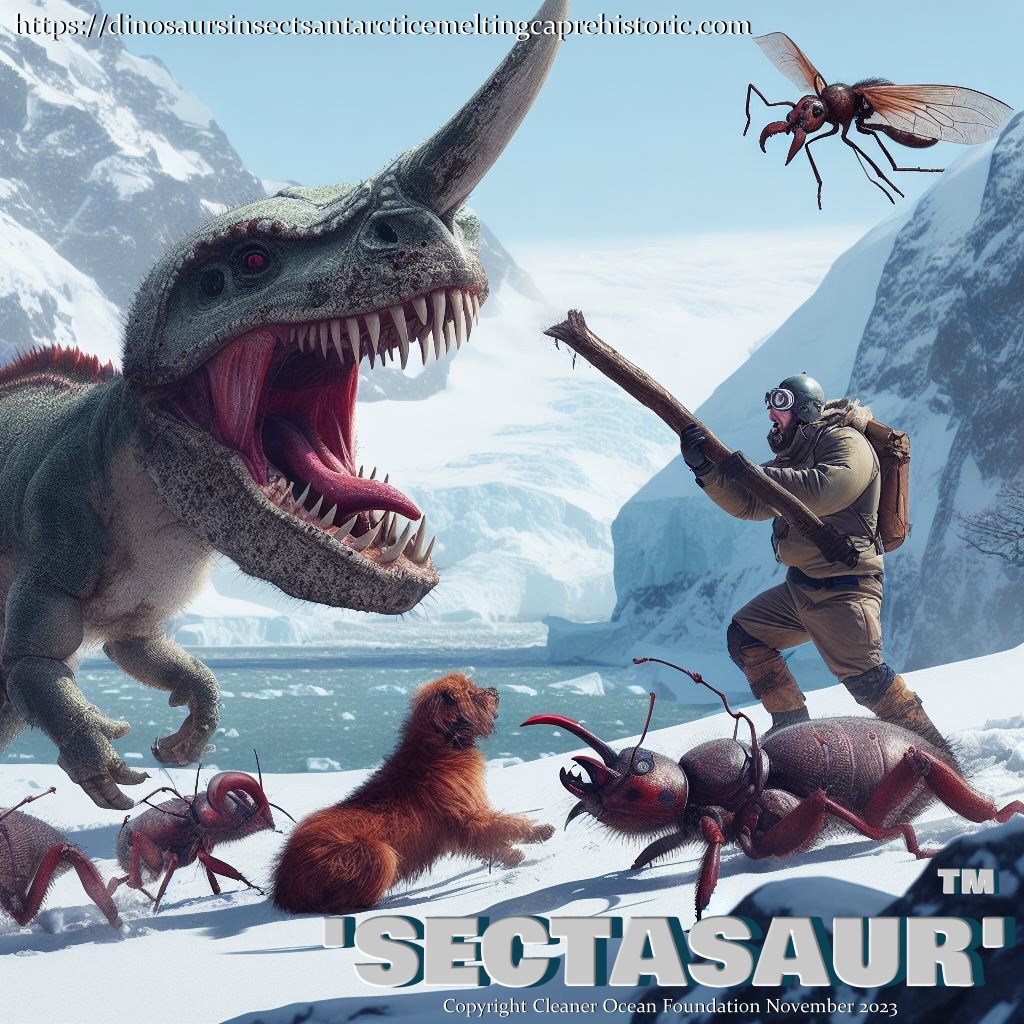 When Lin Po Chang first laid eyes on the prehistoric giant insects in ice, he thought to himself:
"This is it. This is the breakthrough I've been waiting for. A new species, a new discovery, a new glory for China. This 'Sectasaur' is the key to unlocking the secrets of the past and the future. I must have it. I must study it. I must protect it from anyone who would try to steal it from me. Especially that Storm. He thinks he can outsmart me, but he is wrong. I will not let him get his hands on this precious specimen. This is my chance to make history. This is my destiny."
SECTASAUR CAST
| | | |
| --- | --- | --- |
| PROTAGONISTS | - | DESCRIPTION |
| - | - | - |
| | - | The world's most comprehensive digital interactive DNA database |
| | - | A brain implant that allows communications with digital devices |
| | - | The COLREGs compliant autonomous navigation system on ES |
| | - | An investigative reporter and good friend to John |
| | - | |
| | - | Computer genius, programmer and electronics design |
| | - | An advanced solar & hydrogen powered trimaran ship |
| | - | John's mentor, a solicitor with Swindles & Gentry |
| | - | Hauntings of Ernest Shackleton, Robert Scott & Roald Amundsen |
| | - | A container cargo vessel operated by Huyndai Merchant Marine |
| | - | 'Arktiki,' British Antarctic Survey icebreaker |
| | - | Storm's hybrid Cherokee 4x4, classic vehicle conversion |
| | - | BBC TV worlds news service presenter anchor |
| | - | The lead character in this adventure series (Master & Commander) |
| | - | The artificially intelligent AI onboard the Elizabeth Swann |
| | - | British & Commonwealth head of state |
| | - | British & Commonwealth head of state |
| | - | The ship's cat, sacred Temple animals, Ancient Egyptian |
| | - | The Swann's weapons (Excalibur & Pendragon) targeting system |
| | - | The richest man on the planet, turned conservation philanthropist |
| | - | The reincarnated, former Queen Cleopatra, Pharaoh of Egypt |
| | - | The Bishop Supreme, Catholic Church, The Vatican |
| | - | John's inventive genius uncle |
| | - | A brand of healthy beverages, John Storm is partial to |
| | - | Brilliant marine biologist, friend & former lover of Commander Storm |
| | - | UK's leading politician (Honest Johnson) a truthful candidate |
| | - | Supreme Commander, US military |
| - | - | - |
| | | |
| --- | --- | --- |
| CHARACTERS: ANTAGONISTS | - | DESCRIPTION |
| | - | |
| | - | Swedish venture lead ( headstrong freelancer) |
| | - | Antarctic explorer (CIA) US - Canadian group |
| | - | Russian Admiral discovered Antarctica & fossilized insect jaw |
| | - | Army Captain, Ohio, USA, 1818 Antarctic hole theory |
| | - | Giant prehistoric Sectasaur dino- insect, trying to survive |
| | - | Chinese paleo-biologist, pharmacological expert |
| | - | Child genius & martial arts champion (Chinese Pharma+) |
| | - | Opportunist, British Geographical Society |
| | - | Harry Windsor, Army reserve, Maritime Pt. Squadron, Southampton |
| | - | Professor of Maritime History & oceanographer |
| | - | Bjorn's Swedish Navigator & geologist, tough guy |
| | - | Chinese geological scientist & martial arts expert |
| | - | |